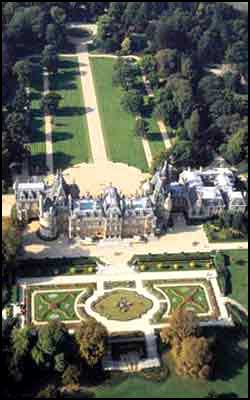 Waddesdon Manor

Rothschild Mansion with exquisite collection of priceless works of art and furniture.
Baron Ferdinand de Rothschild, creator of Waddesdon, loved France and French art. In 1874, with his French architect Destailleur and his landscape gardener Lainé, he built this Renaissance style château.

Over 35 years Ferdinand lovingly assembled from all over Europe an outstanding collection of paintings, furniture, carpets and curiosities to please his weekend guests.

Outside, his creation included a Victorian formal garden, parkland, Rococo-style aviary, winding walks, colourful trees and panoramic views. Visit the Waddesdon wine cellars (with a private collection, dating back to 1868), restaurant and National Trust shop and nearby garden centre. Keep a day free for this enjoyable experience.